Pie Quest began with the wonderfully nerdy idea by "Crazy for Crust"  to celebrate March 14th, Pie Day (3.14) with a pie party! My first pie of Pie Quest was what I decided to call "Breakfast Pie Baskets". They are stuffed with eggs, bacon, and cheese with bacon wrapped around the outside bottom of the crust and baked on. I'm still trying to decide what kind of pie to make on the final day! I'm also debating which pie to actually enter in the contest.
Rachie Recipe: "Breakfast Pie Baskets"
Makes 4

Ingredients: 
1 tube of Pillsbury crescent rolls
3 eggs
7 slices of pre-cooked bacon
2 tablespoons shredded cheese
Splash of milk

I used a silicon muffin pan which makes it really easy to pop them out in one piece. One of the best cooking accessories I've ever purchased. You will also need: a mixing bowl, a small cutting board, a knife, a whisk, kitchen scissors (optional), and a spoon.

Preheat the oven to 375 degrees Fahrenheit 
Google converter says that's 190.556 for any of my international friends that use Celsius 

Filling: Chop 3 of the bacon slices into small pieces. I prefer to just snip them up with kitchen scissors. Whisk chopped bacon, eggs, shredded cheese, and milk in a bowl until the eggs are smooth and frothy. Refrigerate until later. 

Crust: Wrap the remaining bacon slices against the interior walls of the muffin basins of an ungreased pan. Open the crescent rolls and peel off the first 2 triangles leaving them connected in a rectangle shape. Lay them flat on a small cutting board and put them in the freezer. The dough will be much easier to handle cold. Separate the remaining triangles and lay them into the muffin basins pressing the dough into the bottom and the sides. Trim the edges and use the extra dough to reinforce the bottoms and the top edges. 

Spoon the egg mixture into the mini crusts. There may be extra egg mixture – hey, it's a good scramble! Take the dough out of the freezer and slice it into thin slices along the short end. Criss-cross the dough slices over the top and trim the edges.

Bake for 20 minutes or until golden brown and eggs are no longer runny. Egg mixture may overflow the pie basket. Trim edges of excess egg before serving. 

Have fun experimenting with different ingredients in the egg mixture. I'm thinking of trying sauteed mushrooms, Italian sausage, chives, or spinach in future batches. Let me know how they turn out!
This is one of my entries for the "Pi Day Pie Party" hosted by Crazy for Crust.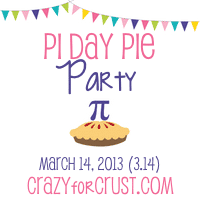 "Join the Pi Day Pie Party with Crazy for Crust and enter to win some fabulous prizes!"