Pi Day has finally arrived and I will post the final pie of "Pie Quest" this evening! This is the 11th pie of "Pie Quest" from last night. I saw a picture that had no instructions or link so I just did my best. Next time I hope to find bigger apples to bake in! I made 4 mini "Apple-Apple Pies" and not only were they a lovely dessert, but they've proven to be a delicious breakfast! Plus, for whatever reason, I like saying "Apple-Apple Pie" and found myself humming a made-up tune with lyrics that go something like: "mmm apple-apple pie, I love apple-apple pie, yummy apple-apple pie"!
So, how is this scrumptious tidbit put together?
Start by baking a batch of just apple pie filling. Apples take quite awhile to soften in the oven and you will probably want that started while you're preparing the rest. A regular size pie recipe for filling can fill more than 4 apples, but I've found that my tummy can only handle so much pie! I am hoping that I can efficiently save the filling to use on my toast in the mornings like a chunky apple butter.
I sliced the top off the apples and hollowed them out with a melon scoop. As I was doing this I made a mental note that I would like to add scoops of apples to some kind of fruit recipe in the future! Seriously, who likes peeling and chopping apples? I think they don't end up in enough fruit salads because of this, and it's super easy to scoop adorable little morsels of apple; problem solved!
Back to the "Apple-Apple Pie"!
I made the lattice pie tops ahead of time so I could simply lay them over the apples and press the edges down. I filled the apples slightly over-full so the filling could settle in as it continued to bake.
I covered them with the lattice tops and popped them back in the oven for about 10 minutes just to cook the pie crust. I pressed the bottoms of the apples into little circles of extra dough to help hold them in place on a flat pan while they were cooking/being moved, etc. The result was lovely! These sweet little treats with that cinnamon-spicy aroma of apple pie came out of the oven. The outer apple shell was tender, but not squishy, and still firm enough to hold its shape. In the future I will dust the top of the lattice with cinnamon and sugar like a giant square of Cinnamon Toast Crunch. Mmm… apples and Cinnamon Toast Crunch…
Where was I?
Oh!
This is one of the links I will be entering in "The Pi Day Pie Party" hosted by Crazy for Crust!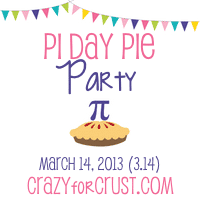 Join the Pi Day Pie Party with Crazy for Crust and enter to win some fabulous prizes!